Hello! This is Yu Deguchi from CHITOSE GROUP.
Best wishes for 2019!
Now, I will share with you the first HOTTOPICS for 2019!
● New Year's greeting from representative Fujita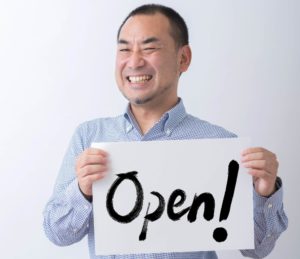 The has been an increase in the number of opportunities to hear the word "open innovation". I feel what we have accumulated from cooperating with people in the biotech industry for 15 years since 2004 is exactly what is known as open innovation.
When I manage the companies, I always think that it will eventually become the power of company if each member successfully uses the company as a tool to lead a live that they want. I think this is open organizational operation. I suspect the word Open Organization will get popular soon.
The editor asked me to write my new year's resolution. I would like to say "my routine will not change even when the new year has come", but if I have to say something, I would personally like to be aware of "Open!" more than ever this year.
Tomohiro Fujita,  Representative of Chitose Group
January 7, 2019
● We participated in an exhibition in Brunei Darussalam
We participated in an exhibition on "Agriculture: The Country's and Nation's Survivability" held in Brunei Darussalam for 7 days from the end of November to the beginning of December last year.
During those 7 days, 6 members from the offices in Japan, Singapore and Brunei attended the exhibition. Sarah, a member of Tavelmout Biofarm (B) that was established in Brunei last year, will report about the exhibition.
◯Sarah Amanina Hj Ahmad(Accounting and Administrative Staff):
Tavelmout Biofarm (B) Sdn Bhd first ever public appearance in Brunei was during Brunei Darussalam's Knowledge Convention Exhibition that was held on 27th November till 3rd December 2018 at International Convention Center (ICC). This year the Theme of the Exhibition is titled 'Agriculture: The Country's and Nation's Survivability'.
It was a very wonderful experience to share this moment with our Chitose Team (from Japan, Singapore and Brunei) to be able to work together throughout the preparations and during dry-run till the day of launch to ensure that our Company's Mission and Vision is relayed and delivered through our booth designs, colorful wall banners, videos and the posters (I would have to say our booth was the main attraction, it caught a lot of people's attention).
Many locals and foreigners were both amazed and excited to see something different and they are hoping to be able to see and hear more about Tavelmout in the near future. When people come by to our booth, the first thing that catches their eyes is the concept of Raw Frozen Liquid Spirulina.
They have never heard of Frozen Liquid Spirulina before and it is interesting when they share their stories of consuming Spirulina in forms of tablets or powder in the past.
Hearing them sharing their childhood stories of consuming Spirulina brought joy because it felt like we were connected to our audience and bringing them back to both their good old times and happy memories.
You can see how each customer reacted differently, when they shared their stories and how it triggers different memories and emotions.
On the other hand, we were making new memories to cherish as we were very lucky and fortunate to be a part of the Knowledge Convection Exhibition this year.
Our Booth during the Knowledge Convection Exhibition, 27th Nov till 3rd Dec 2018
It was an honor and a privilege that our Team had the opportunity to present 1 to 2 minutes on Chitose's Agriculture Land Dream Map and the intention of establishing Tavelmout Biofarm (B) Sdn Bhd in Brunei to His Majesty the Sultan and Yang Di-Pertuan of Brunei Darussalam, Sultan Haji Hassanal Bolkiah Mu'izzaddin Waddaulah ibni Al-Marhum Sultan Haji Omar 'Ali Saifuddien Sa'adul Khairi Waddien(※) and to members of the Royal Family. It was such a breath-taking moment to get a Group photo with His Majesty.
I hope that in the future, we will be able to explore more on the feedbacks from the global market, to spread awareness of the benefits of consuming our Tavelmout, to increase the survivability and sustainability of the world's and Brunei's Agriculture sector and to contribute back to the Nation by achieving Brunei's Vision of 2035.
I heard that the booth which Chitose members struggled to build was very attractive and remarkably conspicuous at the venue. The vision and mission of Chitose were properly exhibited by the members' efforts, and it was a wonderful opportunity as a lead to the future business development.
By the way, my was personal surprised by the following two points.
①The Sultan of Brunei allowed us to take a selfie.
②Muslim girls also throw up peace signs when taking a picture.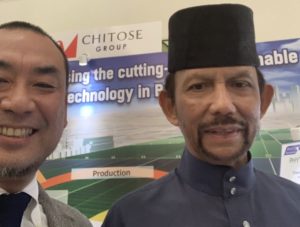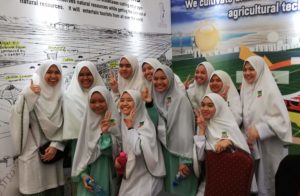 [Extra photos]
● We gave a special lecture at Tokyo University of Agriculture and Technology
Tohda, a member of Chitose Laboratory, gave a special lecture at Tokyo University of Agriculture and Technology, where he graduated from.
The title was "The front line of industrial microbial business".
After engaging in R&D in the biotechnology department (for manufacturing using microorganisms) of a large corporation for more than 20 years, Tohda moved to the business development department at their headquarters. He then joined the venture company Chitose and has been in charge of the fermentation business. (One day, Tohda made an appointment with Chitose's representative Fujita. Fujita met Tohda with a thought that he might have a new project since he already had a business relationship with Tohda. But he was surprised to hear unexpectedly that Tohda wanted to work for Chitose.)
The lecture was beneficial to the students since Tohda shared with them his experiences at both large corporation and venture company in the field of industrial microorganisms. (Now I can understand the preciousness and interest of such a lecture, but when I look back on my student days …)
◯Hideki Tohda (Bioengineering member, Chitose Laboratory Corp.):
I gave a special lecture for the Faculty of Engineering, Tokyo University of Agriculture and Technology (Koganei campus).
I spoke about "The front line of industrial microbial business" with the students at the graduate school as a special lecture for Business of Biotechnology and Life Science (Master Course)/Industry of Biotechnology and Life Science (Doctorate Course). I graduated from Tokyo University of Agriculture and Technology, but I have not visited there for long time. The last time when I gave a lecture there was 6 years ago. I did not know where was the room for me to report my arrival at, so I wandered around the campus. (The building moved!) Of course, the basic structure of the campus did not change, so I was swamped with feelings of nostalgia for a while as I looked at the co-op store and the ground.
About 20 students attended. The faces were easier to see as compared to a large lecture of about 200 people, and I could see what kind of ways to speak would make them sleep or listen with interest. I was able to train on my own lecture technique. Since it was also the period of COP24, firstly I talked about what was discussed in the world with an example of bioeconomy. Next, I talked about my own experience inf business development using production technology of fission yeast-based enzymes and organic acid over 20 years as an example of starting a business using microorganisms. And I also explained the differences in the way work progresses based on the size of the company and the type of business by comparing my working experience in a large company to the Tavelmout business that Chitose have quickly developed in two years.
By the questions about the lecture from the students, I found that they have a strong "research" mind. Of course, it is very nice, but I think that they also have this good opportunity to think of what kind of people the companies need and what kind of R&D the companies conduct while thinking of their own future.
After finishing the lecture, I was asked for advice by a student regarding his research that he was troubled about because a strain of Escherichia coli was not expressed. It was hard to answer, but I thought that it was good to impress him with my past works and experiences.
● Mitsuru Furusawa gave a lecture for Okazaki Fragment Memorial Symposium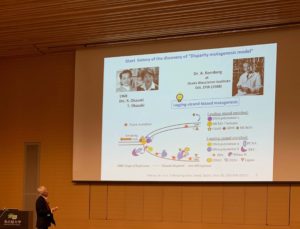 Do you know about Okazaki fragments? Even if you do not know Okazaki fragments, you may remember that you learned the mechanism of DNA replication.
Two DNA chains replicate by their different mechanisms respectively. One chain replicates smoothly and the other replicates inefficiently by discontinuous process. Dr Reiji Okazaki found the discontinuous DNA replication mechanism. The short DNA fragment synthesized in the process is called "Okazaki fragments".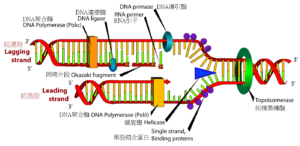 "OKAZAKI Fragment Memorial Symposium: Celebrating the 50th Anniversary of the discontinuous DNA replication model" was held at Nagoya University in 2018, half a century has passed since the mechanism of the discontinuous DNA replication was discovered.
▷Please see the abstracts here.
Mitsuru Furusawa, the founder and Chief Scientific Advisor of Neo-Morgan Laboratory (currently known as Chitose Laboratory) gave a lecture.  His lecture was relevant to "DNA replication mechanism".
Furusawa had been feeling a sense of discomfort in the discontinuous DNA replication mechanism that Dr Reiji Okazaki and Tsuneko Okazaki published in 1968. Twenty years after the publication, Furusawa suddenly came up with an idea that living things cannot adopt an unnecessarily complicated mechanism when he was listening to Dr Kornberg's lecture. Furusawa thought that living things would ensure (=maintain) genetic information by simply replicating the chain and evolve (=innovate) by the discontinuous replicating chains.
▷For more details, please refer to the following Mitsuru Furusawa column.
Volume 8. "Is it possible to experience evolution first hand? -No. 2. A casual encounter and trigger-"
Furusawa proposed this idea as "Disparity Theory of Evolution" in 1992*.
In fact, Furusawa's achievement is based on Dr Okazaki's discovery. When I heard Furusawa's talk, I was surprised to hear names of famous people in the history of biology such as Dr Okazaki. I also felt that new achievements are built on the accomplishments of great researchers in the past.
Please check Furusawa's comments to the symposium in the following column.
https://journal.chitose-bio.com/furusawa_column38/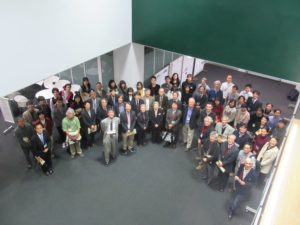 As a quick digression, Neo-Morgan Laboratory (currently known as Chitose Laboratory) was originally established to demonstrate Furusawa's theory, "Disparity Theory of Evolution". It was established through the investment of venture capital (VC) in the early 2000s which was in the middle of the Bio-Venture company boom. The article published at that time is posted below, please have a look if you are interested.
You can see evolution in a test tube. Disparity Theory of Evolution is the pillar. -Neo-Morgan Laboratory
※August, 2005, JST NEWS.(Japanese only)
※Furusawa, M., & Doi, H. (1992). Promotion of evolution: disparity in the frequency of strand-specific misreading between the lagging and leading DNA strands enhances disproportionate accumulation of mutations. Journal of Theoretical Biology, 157(1),127–133.
*Furusawa, M., & Doi, H. (1992). Promotion of evolution: disparity in the frequency of strand-specific misreading between the lagging and leading DNA strands enhances disproportionate accumulation of mutations. Journal of Theoretical Biology, 157(1),127–133.
Finally, let me share with you a bit about Dr Tsuneko Okazaki who is a cooperative researcher of Dr Reiji Okazaki and is also his wife. (She gave a presentation for this Symposium.)
Dr Tsuneko Okazaki is a pioneer of female researchers.
There are currently many female researchers, however, in the past, there was a strong tendency that women are first to be housewives. I cannot imagine all her efforts to continue research, achieve solid results and finally establish the position as a researcher while being a housewife during those times.
Please check the story of Dr Tsuneko Okazaki as a researcher who built the life science research in Japan at the scientist libraries of the JT Biohistory.
▷[JT Biohistory] Okazaki fragments and me.
[Additional Infomation]Furusawa's article was published on JT Biohistory before.
Evolution happens in a moment -The power of evolution living in the body
● We will share two articles from Fujita
The series "The common values of the Japanese venture industry that should be reconsidered from the inside" is being serialized in JBPress.
"In order to make Japanese venture industry healthier and to enhance competitiveness of Japan in the world, I think it is the responsibility to society to write about the reality of bioindustry for people who experience difficult times through the VC investment phase like me," Fujita said in the volume 4 of the series. Please enjoy it!
Can you truly save the ecosystem with bioplastic? A repeated question from within the "common practice" of Japanese venture industry (4) | JBpress (Japan Business Press)
※In the topic of symposium above, I wrote that Neo-Morgan Laboratory was established through the investment of venture capital (VC) in the early 2000s. After Fujita became the representative of Neo-Morgan Laboratory, he bought all shares from VC. Therefore, the current Chitose Group has no stakes owned by VC at all.
▶Please check the following articles for volume 1-3
Volume 1: Does the venture industry use the "Death Valley" as an excuse?
Volume 2: How to create a business plan that gets the" Best Award"
Volume 3: If you start a business, you should not have thoughts that you'd be admired by someone!
Also, the volume 2 of article series in NewsInsight, "Tomohiro Fujita's Hisatsu-Shiwakenin (Professional Journalist)" has been released.
The one and only thing that is important for the organization from seeing RIZAP and IDC OTSUKA. (JP only)
Fujita was in charge of the illustration from this volume. I was amazed at how well he drew. He used to be in the school art club. (He also used to be in the soccer club.)
※The illustrations are completed done by Fujita's own direction.

● New members join us!
Last month, two ladies joined us and the atmosphere of the office became more gorgeous.
One is Japanese, another is Iranian. She is the first member from West Asia!
◯Akiko Ito (Sales Planning Department, Tavalmout Corporation):
Spring 2018.  The conditions of an ideal company to myself who was willing to change job are the follows.
①Being able to work in excitement with promising and attractive products and services
②Learning can be obtained through work and people
③Being able to do a variety of jobs by taking advantage of my experience regardless of the job in charge
④Being in a good environment as a place to spend most of my time
⑤Hiring me [important]
Then at the end of last year, I finally met with the company that matches all the criteria perfectly.
In 2019, I will become an ideal member for the company.
Thank you!
○Zhaleh K. Nezhad(Researcher, Research and Development Division):
When I was graduating from my PhD course, and after several years of doing research, I became more and more certain that pursuing an academic career and merely doing research and publishing papers will not be enough to satisfy me. I wanted to work somewhere where I could apply the research outcomes directly in the day to day life and have an impact on the society.
My first attempt in achieving that goal was not successful since the managers' point of view and mine didn't match despite their primary promises. When I was searching new opportunities, I found some biotech companies including Chitose Group. After studying the company's website, I was somehow confident that it was a right match for me and I was lucky enough to be able to join. I have several reasons for joining the Chitose Group, but I only mention the most important three for me with the hope of not boring you, at least not too much :D.
Firstly, I wanted to work in the biotech industry since it is extremely revolutionary and is changing the concept of various other industries such as pharmaceutical, agriculture and environment in a fast pace and Chitose is a biotech company involved in various domains.
Secondly, I wanted to work at a company where both research and business would be done in parallel like 2 sides of a coin that cannot be separated. As a researcher it is of great importance to me to be able to apply the research outcomes directly in the business, so the society can truly and directly benefit from the advantages. This reason and the fact that Chitose is active in many different industries, expanding rapidly, and have successful research outcomes combined with businesses, didn't cease to amaze me.
Finally, the open-minded managers who would give you the possibility to try new things and choose the areas/positions/industries you want to be involved in based on your interests were very fascinating to me. This combined with the friendly and open atmosphere, the collaborative culture and the fluid, relaxed and flexible environment that accepts you bringing your true self to the office left me no hesitation to join Chitose.
I still remember walking out of the company after my round of interviews that were very informative and friendly and after my final interview with Dr. Fujita, which was very interesting and surprising (he told me I could bring my true self to work as an Iranian, and that I could choose the areas I want to work on), thinking about these makes me confident that this is definitely the company I want to work at.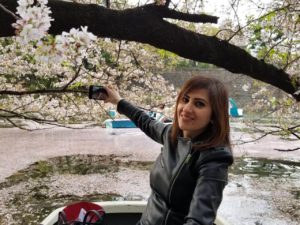 I am very pleased that both of them seem to have decided to join us with feelings of being attracted to Chitose's flexible culture and exciting environment where they can take on challenges. At the same time, I think that it is necessary for everyone to continue making efforts to maintain such an environment. (Personally, I feel terribly frightened by the fact that the necessity of English at work is increasing day by day.)
Editor's Postscript
In December, I had more interaction with people than usual. Meeting people brings both happy things and bad things.
In the past, when I got a bad feeling, I used to be often dominated by emotion, "I hate it anyway, I am angry, I feel bad, I am sad." However, I can recently listen to my mind and think like "It is a good opportunity to think about something. Now, what do I feel and what do I think?" when bad thing happens to me. (Of course, I do not always stay positive and I get depressed in the middle….)
I think that it is possible to eventually make all events a positive experience by doing this. For example, when I am so angry with someone, I look back on someone's actions and words which made me frustrated and I tell myself that I can learn lesson from other people's mistake.
A certain day in December. I was hurt by the words someone told me. While becoming sad, I thought why this person would only say such things and one of the answers was "lack of imagination".
I remembered the phrase that was used for AC Japan's TV commercial. "Dreams and kindness are born from imagination." Have you heard of it?
I was not particularly concerned about this phrase when I frequently heard it on TV (around 2014 to 2015). However, thinking about "imagination" reminds me of the phrase and I felt it has a point.
I would like to cherish "imagination" to have fun working with various people.