Hello, I'm Deguchi from CHITOSE GROUP.
All the frustration that I used to feel when another year passes by is gone now, and I got used to the new environment of 2019.
● Holding a New Year's party with the theme "Let's get to know each other"
There are many members we don't usually get to talk with in our normal working hours, since many different projects are ongoing in Chitose. This New Year's party was planned by some organizers , so that all the members of Chitose can communicate and know more about each other.
・What? You were a DJ before!?
・I didn't know you gave birth 2 months ago!
・I was wondering where you were recently, so you were performing experiments related to the job you secured in the lab!
It seemed like many of the members haven't talk with each other for a long time, so they became closer to each other by talking about themselves after the party started. I think, to be able to talk about anything that is not directly relevant to our job, will makes us feel comfortable to work together by getting to know each other.
By the way, everyone, do you know how to build good relationships(=friends)?
The answer is "to do fine works", said Mr.Sakayu Shimizu, who takes good care of our company and myself, in his greeting. If we do fine works, we can respect each other. Then, we can be in a good relationship, said Mr.Shimizu.
"Fine works" means to always be of service to a person. It may be someone in front of you for a short-term, or maybe someone in the future in the long run.
The world that Chitose is trying to bring to reality would not be  completed while we are alive. But, if we try to embed each of our projects into the society that continues into the future, "somethings that would seem only natural in the future" may change.
Now, many projects are going on in Chitose. There are not enough people to embed each of the project to society. We are looking for not only 'Employees' but also any kind of members who want to work with us. So, If you're interested, even just a little, we will be happy to hear from you.

※Mr. Sakayu Shimizu
Former professor of Laboratory of Fermentation Physiology and Applied Microbiology  at Kyoto University. Current emeritus professor at Kyoto University. Chitose group's fermentation technical adviser.
A person who found many kinds of metabolic pathways, reactions, enzymes through researching and developing the study of new functions of microbes, and expanded fundamental studies of the production of useful substances by using the unique function of microbes. Below is Mr.Shimizu's lecture recorded 10 years ago. It's easy to understand and it explains the overview of his field and his achievements, including his character. http://stu.isc.chubu.ac.jp/bio/public/ann_rep_res_inst_biol_funct/annual-report_v8_2008/pdf/003.pdf

● Giving a lecture about Tavelmout business at 2nd FOOD PROTEINS ASIA
Mr.Fukui, the Director of Chitose Agriculture Initiative, and also the Operating Officer and CFO of Tavelmout business, participated in『2nd Food Proteins Asia 2019』held in Bangkok.
reference)What is Tavelmout Corporation′s future goal, after a successful raise in equity capital of 1.7 billion yen?
◯Kengo Fukui(Director of Chitose Agriculture Initiative, and also  the Operating Officer and CFO of Tavelmout ):
I gave a lecture at the 2nd Food Proteins Asia 2019 held in Bangkok from January 21st to 23rd. At the Venue, about 40 people from various companies,  such as leading suppliers like ADM, Cargill, Wilmar, and food material manufacturer such as Dupond Danisco, Nestle, and venture companies which have new technologies and materials, attended. Appealing presentations about protein source for the next generation and the processes were held there.
This time, I took part in the lecture and panel discussion talking about the possibility of algae as raw material for protein, and about activities through Tavelmout as Chitose group.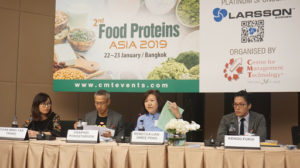 Recent years, "Food awareness" is rising. While the demand for healthy raw materials of vegetable protein is increasing, I heard many people being expectant about algae protein in the venue.. Also, as there were many questions asking me for more concrete information on contribution to our health and the manageability, it made me recognized the importance of these information. There was an exceptionally high expectation regarding the price and I come to realise once again that this is an important mission.  
Also,  the crowd were curious about how to build a stable vegetable protein market that's typical for Asia, since the exhibition was focused on Asia where tofu and tempe (an Indonesian fermented food made of soybeans fermented by tempe bacteria), vegetable protein food such as soy milk and insect protein are consumed a lot more compared to western countries where only recently there had been a boom.  I guess in the future, the approach may change mainly into exporting from Asia to western countries. I personally think algae has more affinity in Asia in terms of eating experience.
A French venture that makes drinks out of algae was also participating in the event, possibility seeking for opportunities. I had a fervent discussion with their CEO lasting 2 hours even after the venue was closed. Through the discussion, we noticed that their situation was just the same as ours. We hit it off with the idea of making the algae product easily accessible, not as a competitor but as a collaborator. I believe this kind of scene is something that is unique to exhibitions like this.  
The opportunity to take part in exhibitions had decreased after I was transferred to Singapore, so it's been a while since the last time I participated in such events. However, in experiencing such lectures once again, I realized the importance of exchanging information with all the industry stakeholders and professions. I recently been  hesitating to go too far from Singapore, but I'm planning to return to the exhibitions in America and Europe this year.
Anyone who is reading this, please let me know if there is a recommendation of exhibitions or place that I can give a lecture in some other countries!
● Starting a trial sale of organic fertilizer in Malaysia
We have started a trial sale of organic fertilizer which we developed together with a Malaysian company "Sime Darby Plantation Berhad"!
▶Click here for details
In palm plantations, when the soil microflora decreases due to the impact of scattering too much chemical fertilizers and chemical pesticides through single large-scale agriculture, an outbreak of mushrooms called "Ganoderma" which causes the palm trees to be diseased occurs and it is becoming a big issue.
Therefore in order to keep the palm plantation as a sustainable industry, through the collaboration with Sime Darby Plantation, we developed an organic fertilizer using "CSF(Chitose Soil Flora)"; Chitose's proprietary technology which helps the soil microflora be configured to what it should be.
The organic fertilizer we have developed this time contains "trichoderma filamentous fungi", which has an inhibitory effect against "ganoderma filamentous fungi". Trichoderma filamentous fungi does not only show inhibitory effect against germs but it's also an important microbe that is found in the soil microflora. By enriching the soil environment while suppressing the disease, it develops a  soil that fundamentally has less risk of causing diseases.
Also, to produce this material, organic waste that germinates from palm plantation can be used as a raw material. It's a huge point that it has a circular agriculture system.
CSF (Chitose soil flora) is our proprietary agriculture material production technology, that could increase microbes at a low price by improving the compost production process. Besides the organic fertilizer for palm plantation which we have started to sell as a trial, some discussions about developing in China are happening now.
This is one of the projects we are looking forward to for the next development.

● Learn from ONE PIECE! The real issues that should've been reported when the "Riot on public-private fund officer resignation" happened
This is "Tomohiro Fujita's Hissatsu Shiwakenin (Professional Journalist)" series in NewsInsight.
As for the third topic, Fujita will speak his mind about the "confusion of Japan Investment Corporation" which might still be fresh in your minds.
Learn from ONE PIECE! The real issues that should've been reported when the "Riot on public-private fund officer resignation" happened. (JP only)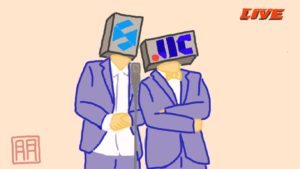 The first topic : The Japanese investment in scientific technology, excessively advanced in "selection and centralisation" (JP only)
The second topic : The one and only thing that is important for the organization from seeing RIZAP and IDC OTSUKA (JP only)

● Our new member!
◯Mirai Nomura (Corporate Administration Div.)
I came back to Kanto region from Hokkaido where had I lived for 12 years since I was a student. And I met Chitose, when I was job-hunting for a position in general affairs or accounting.
To be honest, I didn't know much about the firm until I took the interview. While  listening to the interviewer Nomoto, I started thinking "this company sounds interesting". The atmosphere seemed to suit me because I had a background in science, and the job description seemed fitting for me because I wanted to do lots of different kinds of work as well. So I decided to join this company.
It is not long since I entered this company, but both members of the admin team and the research team are all jolly and nice. I laughed and drank too much at the New Year's party.  
I am looking forward to making good contributions as soon as possible!
Editorial Note
Sometimes, really sometimes, seeking to be the "same as others" gives me pain.
Perhaps, it is because Japan is a racially homogeneous nation, or maybe it is the impact of education? I feel like Japanese have the idea that 'being the same' is a common sense, so 'something that's different' stands out a lot.'
If this case of being "different" is based in a society like America or Singapore where various ethnic groups gather, we might feel that being the "same" would be rather precious and this might even be treasured.
I get the feeling that a society based on "differences" is more friendly and better for everyone these days.
The release of the next HOTTOPICS is planned for early March.
Please send an e-mail to news-en@chitose-bio.com if you have any ideas, feedback or question about the content.