Hello! This is Yu Deguchi from CHITOSE GROUP.

A few days ago, cluster amaryllises suddenly appeared in my neighborhood.
By the way, I wrote "suddenly" above, but I just did not notice the stalks of cluster amaryllis since they were inconspicuous. It felt as though they suddenly appeared but they were just growing well, not suddenly at all.
Seeing the cluster amaryllises, I feel that autumn has come. I will start this issue, fully enjoying this season's fresh air through the open window.
● We will join in space development!
Chitose's R&D proposal was adopted by JAXA (Japan Aerospace Exploration Agency), and we will join in a space development!!
Why does the word "space" make me feel so excited?
The title of the project is "Development of a small scale and efficient protein production platform utilizing edible microalga, Spirulina". This was applied to one of JAXA 's projects, "Compact protein production system not relying on grain".
http://www.ihub-tansa.jaxa.jp/english/RFP_announcement4_201809.html
JAXA is working towards food production on the moon (=lunar farm) with a goal of future lunar settlements. We will conduct research and development aiming at local production for local consumption on the moon.
▶Please refer to this press release (in Japanese) for the details.
"'Algae' contributes to produce food of the space! Develop a compact protein production system with algae Spirulina – Our research proposal was adopted by JAXA space exploration innovation hub-"
Here, I would like to ask the project leader, Takanori, to introduce the project.
◯Takanori Hoshino (General Manager, Algae Utilization Division, Chitose Laboratory Corp.):
At various meetings and lectures, I was almost always asked the same question.
The question is "What is the most superior algae production system that is currently proven to be practical?"
Since I was asked too often, I recently had to prepare my answer to that question in advance. If you let me describe the answers here as well, as the cliche goes, my answers are "There is no such thing" or "It's on a case by case basis".
However, the answers are not understood easily.
People keep asking me "Which one would you dare to choose?
I feel that it is like how sometimes I want to eat tonkotsu ramen, sometimes I want to eat salt flavoured ramen, and occasionally miso ramen is not bad. It is not something I can definitely say for sure. But instead of saying this, I suppress my feelings and try instead to explain carefully every time.
Well, I think this project would be a good example of "occasional Miso Ramen"
When considering food production and CO2 absorption/oxygen production in space, the more important issue is on how to save more space, how to reduce use of water, how to effectively utilize waste and how to produce high-quality food rather than how to decrease initial construction cost. In other words, in this case, it is inappropriate to use a pound-type production system that can generally be constructed with low cost but is not so high in productivity per unit area and uses a large amount of water.
To suit the purpose and circumstances, we use various tools and pursue more interesting and exciting results. Of course we will earn money too.
I feel that this is a very exciting project that aims for such things.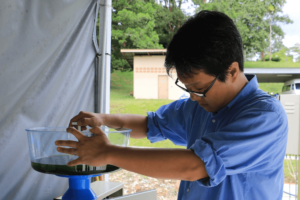 ※"Microalgae Project in Sarawak" introduced in the following article
https://journal.chitose-bio.com/en/algae_expertise-2/
I cannot imagine the day we can live on that beautiful moon that I look at every day, but in a few years civilians will be able to go on moon excursion trips (the news of president Maezawa of ZOZO Inc. was a hot topic), to land on the moon and finally to stay there. Little by little, we will be progressing towards settlement on the moon.
By the way, Takanori made me want to eat Miso Ramen.
● We participated in the Next Generation Giant Industry "Protein Related Technology" Meetup
The other day, a seminar on the theme of protein crisis was held in Tokyo.
I rarely hear the words "protein crisis" from people other than Chitose members last year, but I realize that these words have been used since the announcement of Tavelmout company's raise in equity capital this year.
This time, Chitose Group received a lecture request as Tavelmout Corporation is aiming to solve the "protein crisis". Nakahara, CPO of Chitose Laboratory Corporation, gave a lecture as one of the startup lectures, "Frontline of protein related technologies".
Well then, from here, Ozeki from Tavelmout's Sales Planning Department will share with you the event report!
◯ Takashi Ozeki (Manager, Sales Planning Department, Tavelmout Corporation):
Hello everyone! In order to increase the market awareness of Tavelmout, I am penetrating the restaurant industry (especially restaurants and cafes aware of health and physical improvement) on a daily basis. This time, to support the lecture and PR activity with Tavelmout tasting, I was invited to attend the event by Ken … Oh, no, I participated willingly. About 80 people from food manufacturers, animal feed companies, financial institutions, the media, etc. participated in the event, and I was able to feel the heightened interest in the world's "protein crisis".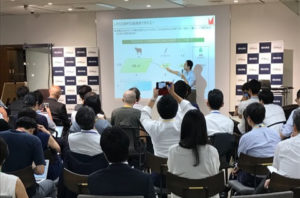 Other startup companies that gave a lecture were Musca Inc. (housefly, musca domestica), Ellie Inc.(silkworm), and  Integriculture Inc (cell-based meat). The representatives and staffs of all three companies were young, and had a very keen mind.
After the lectures, many participants gathered at the booth for Tavelmout tasting.
Many people were surprised by Tavelmout since it has no taste even though it is dark green. ("· · · Oh, it has no taste" but not "Delicious!" is a compliment to Tavelmout.)
Among the four startup companies which gave a lecture for this event, we were the only ones who have already started providing the products to the market, but I think their products will be released to the market one after another.
In order to establish these new ingredients on the market, it is important to create an environment where products could actually be accessed. I am willing to contribute to solving the "protein crisis" through my job of introducing the products to the food and beverage industry.
Finally, I will share with you comments from Ken who gave a lecture.
◯ Ken Nakahara (Chief Photosynthetic Officer, Chitose Laboratory Corporation):
This time, I tried giving a pitch, a presentation in a short time (15 minutes). I was so excited to try it since I felt "It's something like an IT venture on the West Coast!", and I found it was so difficult. While listening to sophisticated presentations by the other companies, I thought that I should become better by refining my presentation skills. In the past, I heard the story where an employee who met Jobs in an elevator was asked to explain his work in a minute, but he could not answer well and got fired. If I was his employee, I might get fired more than ten times. After all, it depends on how much my of thoughts are being organized. I want to become a presenter who can make a presentation that enters the minds of the listeners directly and lasts long for a long time in their minds.
▷You can check the content of lectures at logmi.
"Algae" is the key to get rid of the protein crisis. From fossil resources to sunlight-originned "circulating society"
Insects, artificial meats and algae may still sound strange for the general public. So I think that it is important to make it a "natural existence" by any way possible. To that end, it is important to lower the cost, to develop products that are delicious and can be sold in easy-to-handle places.
Since Tavelmout has no taste, it adapts to any kind of food. It's an important feature in making delicious products! We will contribute to solve the protein crisis by developing a lot of delicious algae products, expanding the products in places that are easy to pick up, and expanding the "culture of eating algae"!
By the way, although I do not like the feeling of IT ventures, after I heard from the two members who participated the meetup that it was very fun, I feel that I want to feel such atmospheres occasionally. I should have attended the meetup!
● Fujita gave a lecture at Nara Institute of Science and Technology
Fujita, Chitose Group Representative, gave a lecture with the theme of "Bioscience research at venture companies" as part of a series of lectures, "Industrial development of bioscienceⅡ" at Nara Institute of Science and Technology.
Thanks to Professor Hiroshi Takagi's invitation, Fujita gives a lecture for his students every year. Toshiya Sasaki who is currently the President of Tavelmout Corporation was a student of Professor Takagi. Having heard Fujita's lecture when he was a student led him to join Chitose. We never know what makes a link to a future member. (Some of the students who heard the lecture the other day may possibly work with us in the future…!)
I asked Fujita to take a photo of him with Professor Takagi together through this good opportunity. The picture is this.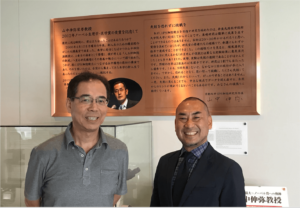 In the background, there is a copper plate panel that says that Professor Yamanaka talked about the idea of iPS research for the first time in this auditorium. The core part of iPS research had been completed when professor Yamanaka was at Nara Institute of Science and Technology.
◯Tomohiro Fujita (The Representative of Chitose Group):
It was over ten years ago when Professor Takagi first gave me the opportunity to teach at Nara Institute of Science and Technology. At the beginning, I was confident that I was teaching while making a good atmosphere giving a sense of unity to nearly 80 students, since I was just about 10 years older than the students. But unfortunately I am now 20 years or more older than the students.
When I try to give various examples in the lecture of 90 minutes, I recently have trouble understanding the thoughts of the younger generation, such as having to worry about examples of people who are good at singing.
In the past, students were listening to a an older brother's talk, but now, they are like listening to an old man with suspicious appearance. I feel that this is an important opportunity to find a way for the old man with suspicious appearance to be accepted by people.
● We had a presentation at a conference regarding  novel antibody drug producing cells and their great potential to produce antibodies of 5g/L in 4 days
The Society for Biotechnology, Japan held a headquarters planning symposium, "Essential cell culture discovered by engineering -How engineering faces the fundamental issues of animal cell culture-" in September. Horiuchi, Chief Technology Officer of Chitose Laboratory Corp, participated in the symposium.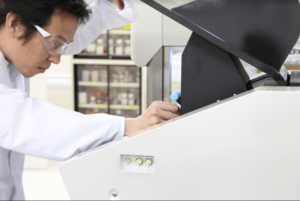 The title of presentation was "Antibody drug production by novel CHO cells. -Their high potential of 5g/L/6days and challenges to industrialization-". This was a presentation about the great potential of novel antibody drug producing cells (hereinafter referred to as new CHO cells) that are capable to produce antibodies with a titer of "5g/L in 4 days". The cells had been developed as one of MAB* projects.
※Manufacturing Technology Association of Biologics (MAB):
An initiative of industry-government-academia designed to complete robust biologics manufacturing technology aiming at practical application by organically integrating Japanese excellent manufacturing skills in the field of biologics.

The reason that the productivity is different from the presentation title (6 days to 4 days) is because we succeeded at further shortening the culture period by improving culture conditions in the period between the deadline of abstract and the presentation. If you know about biologics manufacturing, you must be impressed by the strikingly high potential of these new CHO cells.
New CHO cells reported at this symposium are the world's most productive cells. We are confident that we will be able to contribute to accelerating the development of biologics and dramatically reducing manufacturing costs by using these cells.
A reporter from Nikkei Biotechnology & Business, who was at the symposium, was impressed by their great potential and wrote the article below. We appreciate it, Mr. Kawata.
▷Chitose Laboratory developed novel CHO cell lines that can produce antibody drugs of 5g/L in 4 days.
Editor's postscript
I was often asked if I have enough topics to write every month. Actually I always have plenty of things to write as I select the topics from many. Chitose is like a treasure trove of stories. Whenever I'm talking with the members, I feel like "I want to tell more about these!!" and I think about when I should send them out to you every day.
Through my own experience that I have got since I began working for Chitose, I realize that we need enormous preparatory periods and a lot of people's involvement and thoughts before certain achievements come into contact with the eyes of everyone outside of the company.