Hello! This is Yu Deguchi from CHITOSE GROUP.
When I am busy, I tend to ignore various things. However, last month, I thought it was important to treat myself to something delicious and soothe my mind despite being busy. Although I thought that I would not be able to write this issue because I did not have much time, I have selected six topics from among many which I'd like to share with you.
I shall start this issue with feelings of happiness since I have many things I want to eat and many things I want to write.

● Chitose & Mitsui Chemicals announced novel open innovation "0 to 1 Project"
October 29 (Monday), Mitsui Chemicals and Chitose Group jointly held a press conference.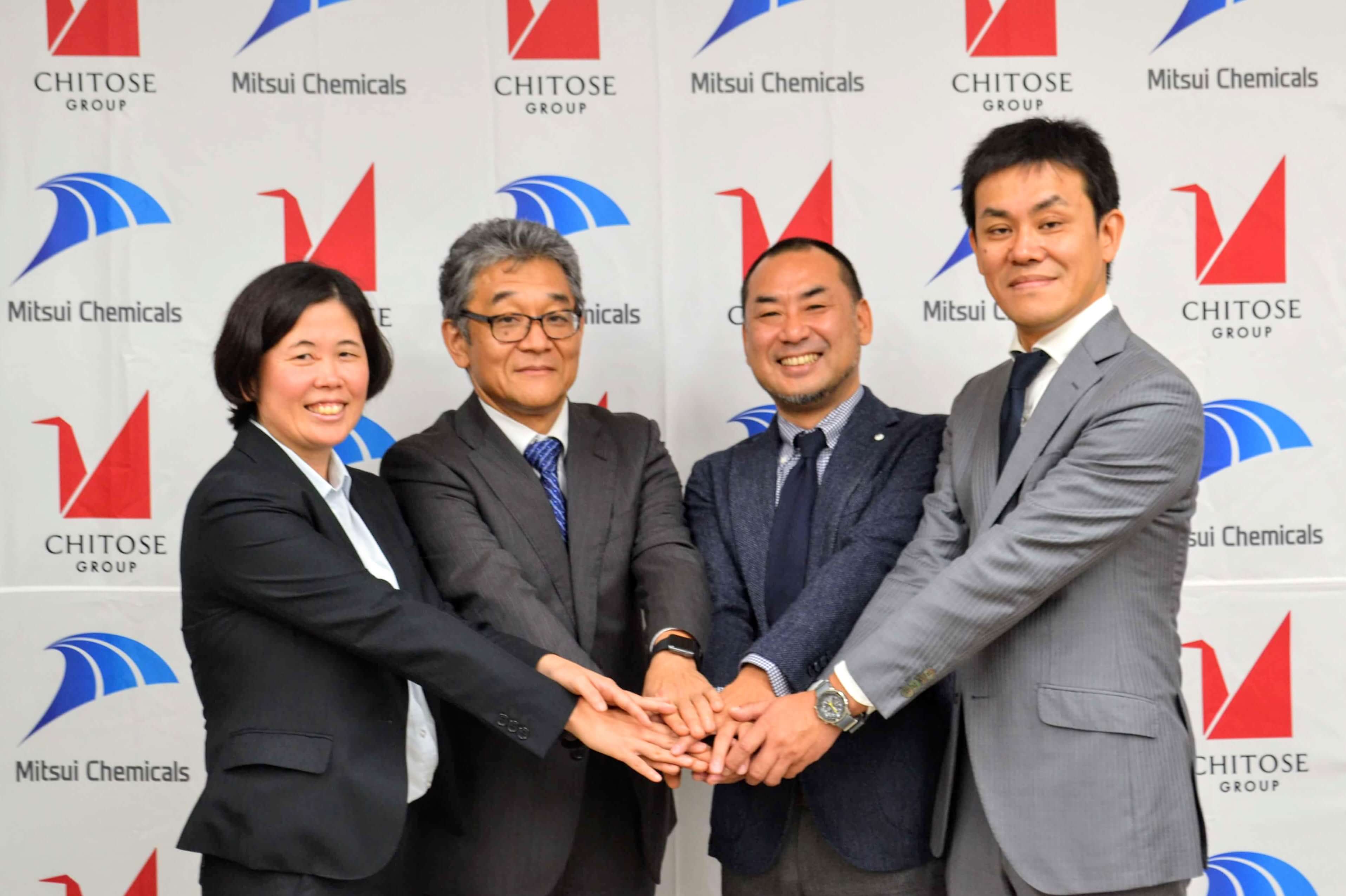 ▷Please refer to the press release
Mitsui Chemicals and Chitose Group Launch Novel Open Innovation Initiative to Foster Businesses and Talents. -Joint commercialization based on unique technical seeds of both companies-
Two employees of Mitsui Chemicals have worked at Chitose's office everyday since the beginning of this April and have become acquainted with Chitose.

They gathered together in the yearly Group photo, and perfectly became a part of the members of Chitose. The name of the project which they are the spearheading is "0 to 1 Project".  It is not easy to share the skills and know-how to develop zero (technical seeds) to one (business) with large enterprises through nurturing of the businesses and training of the leaders (in this case, Ms Aritomi and Mr Hidesaki from Mitsui Chemicals). The project started from this April as a 3 years project and ends in 2021.
※It was me who suggested the very straightforward name.
As the part of "0 to 1 Project", Chitose Group has established two companies, "PHYTO Renaissance, Inc." and "Tierraponica, Inc." respectively. We accepted Mr Hidesaki and Ms Aritomi from Mitsui Chemicals as the representatives of each company. They carried out all the processes of company establishment including the determination of company names and logos.
There are phases in the process of business development. The issues that are needed to be focused on in each phase are different. However, there are few people who have experienced project startup where the project is born from zero in the present Japanese society. Fujita thought that sharing the place for the experience is important for revitalizing the present Japan and the industry, and thus invented the "0 to 1 Project".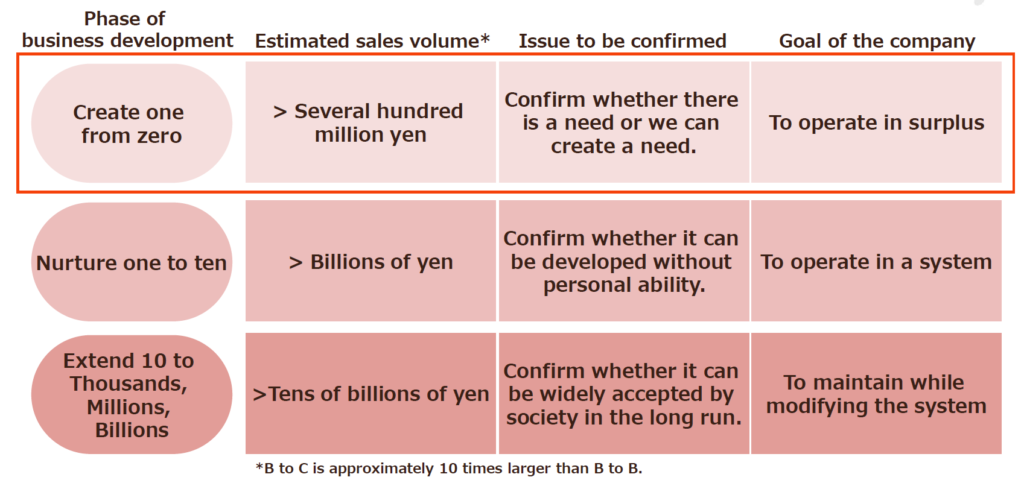 In order to create the business from scratch, it is important to make the project team conscious of the following three thoroughly.

However, since it is difficult to thoroughly complete these three when the project is proceeded in the general "organizations designed to expand to ten" method, it is necessary to isolate and protect the project team.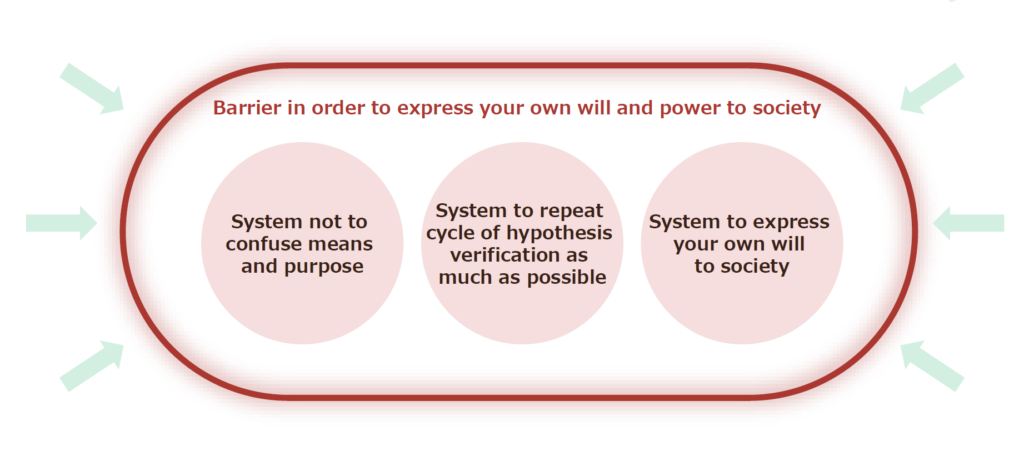 I think that this project is an initiative that can be considered, in a sense, as "open innovation". "Open innovation" which should be a step taken occasionally becomes an objective or only the word may be seen in precedence.  I hope that the "0 to 1 project" will be a new proposal to society as a so-called "open innovation".
As an individual, I cannot wait to see how these two companies will develop in the future and how these two members will change through friendly competition with Chitose members.
▷Click here for media information about this announcement.
● We attended BioJapan 2018
BioJapan was held at PACIFICO Yokohama for three days of October 10-12. You might have attended this event.
Some Chitose members participated at the booth of INCJ and MAB (Manufacturing Technology Association of Biologics).

Here, I will share a comment from Osawa who was at the MAB booth.
○
Noboru Osawa (R&D Manager, Chitose Biologics(Mammalian Cell) team):
"MAB is an organization where many laboratories of companies and universities have been working together since 2013 in order to make a domestic biopharmaceutical manufacturing platform. Chitose Laboratory Corporation has participated in MAB and contributed to Host Cell Breeding and Cell Line Development part.
At this BioJapan, many people visited MAB booth and we introduced MAB's activities. I am very pleased that our activities caught the interest of not only pharmaceutical companies, but also by many other companies and universities."
I visited the event in the afternoon on the last day and I ran into people whom I do not usually meet such as my teacher of graduate school and a former Chitose member who is currently working for another company as a researcher. In addition, I had two glasses of beer distributed at the iPark booth and went back home feeling happy.
●We held an Algae Business Seminar
The other day Nakahara, Chief Photosynthesis Officer, and Hoshino, General Manager of the Algae Utilization Division, were in charge of the lecture for algae business seminar.
The seminar title: Business creation and research and development of mass culture technology using algae.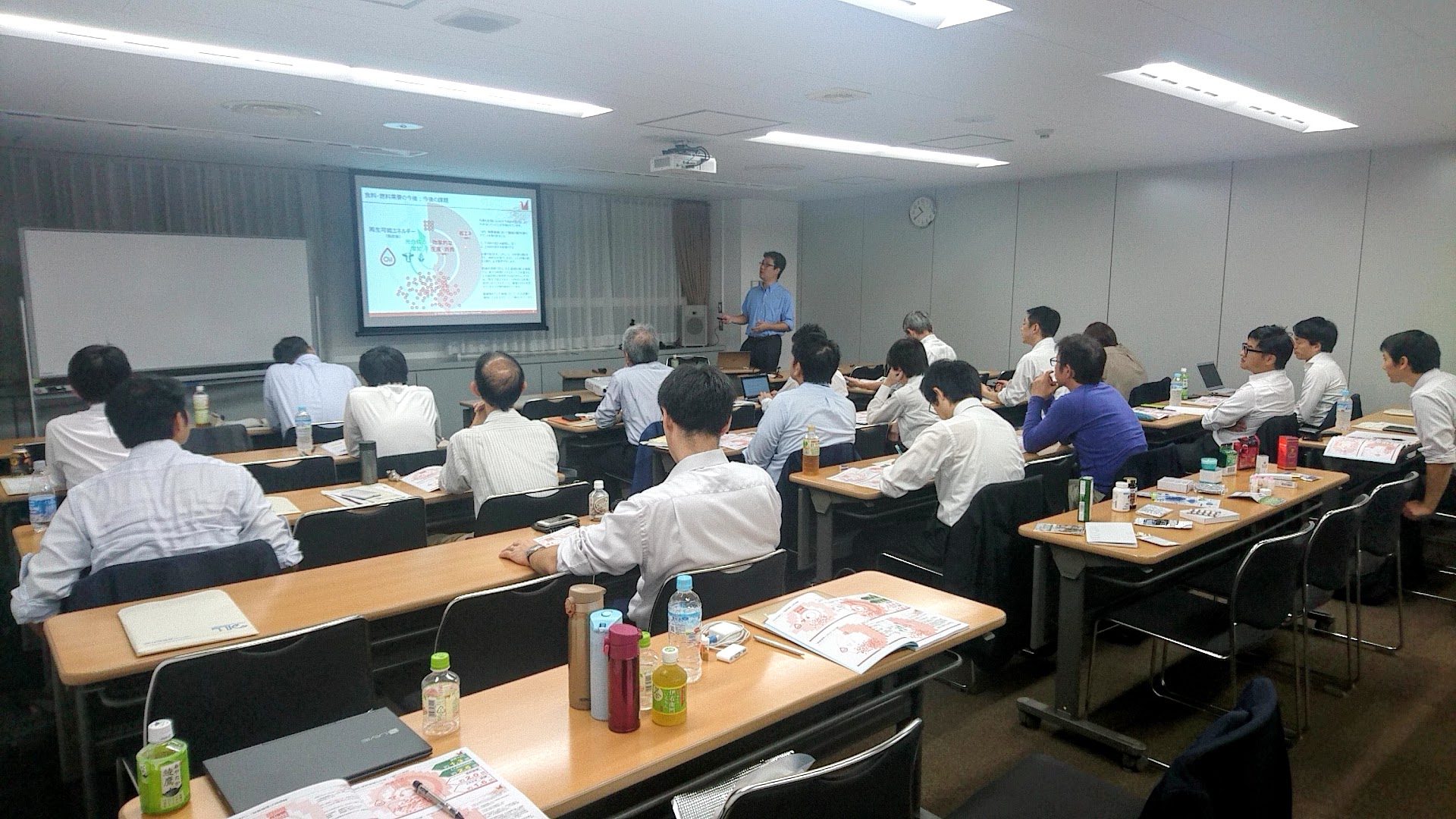 Okamura who is currently in charge of editing Modia participated in the seminar, so she will report on the day's activities!
○Midori Okamura (Group Communication team):
Hello everyone. This is Okamura from the Group Communications team. Since I was originally in a field unrelated to algae, I thought that I should understand "algae" first in order to convey the algae business that Chitose is working on, I participated in the seminar for my study this time.
In the seminar, we started with the question of why we should focus on algae now, and also shared a range of subjects including examples that actually commercialize algae, research and development being performed for that purpose, and mass culture technology (scaling up). Participants were different people who had already entered the algae business or who are planning on setting up new businesses from now on.
We received quite a lot of questions during the time for questions and answers. Most of them were related to the cost for commercialization. Some people asked questions other than cost, for example, risks of algae culture (gene knockdown or transformation), however, others asked about cost of algae culture such as cost difference in various location and economical difference between open pond and PBR. I think that's because it is the most worrisome problem when they consider entering into the algae business.
I was delighted to see the participants dig deep into one question and had a discussion derived from the contents of the answer to that question, since I got to know that many people participated in the seminar with their anticipation of starting new algae businesses. I hope that this seminar will be a good opportunity to increase the number of comrades who will make an algae industry together.
I will advertise a bit over here about "Modia" that I am engaged in editing. We are sharing fresh information about algae in Modia. Algae experts from Chitose Algae teams are offering contents from a wide-range of topics, from serious topics such as grant information both domestic and overseas to trivias on algae. I would be delighted if you check it out. Please subscribe to our e-mail newsletter which is delivered monthly too.
● Researchers visited us from Africa
Africa is an unknown place for me because I have never stepped on the land. However, two Chitose members are accustomed to Africa.
Both of them were Japan Overseas Cooperation Volunteers (JOCVs). Kinoshita had supported a women group for 2 years in Senegal. Kataoka had been a mathematics teacher for two years in South Africa. Since Kataoka wanted to know about other places in Africa other than South Africa, he cycled around the African continent after the two years. When I asked him "Have you been around Africa?", he said "I did not go "around Africa" but I just went "across Africa".

Kataoka had been in charge of Southeast Asia agriculture projects in the mountains of Borneo Island in Malaysia for two years and has since then been in Cameron Highlands. As introduced in the article below, Kinoshita is producing delicious strawberries at Cameron Highlands.
Malaysia made "Japanese Quality Strawberries" seek to build the future of agriculture in Asia
These two members are working actively at the fields of Southeast Asia.
Since I was impressed by them, two out of a hundred Chitose members who have had experiences of living in Africa, I was invited to introduce them with such lengthy sentences. I will start on the main subject.
We had many visitors from Africa.
Here, Iko will share this topic with you !
◯Ryo Iko (Researcher, Business Development Division):
Hello, everyone.
This is Iko. I hope I can properly share this topic with you, so I would appreciate it if you could be so kind to read what I have to say.
This time, as part of the program arranged by the World Bank*, 11 visitors such as Directors of African research institute for advanced studies and university professors from Ghana, Nigeria, Tanzania, Côte d'Ivoire and Zambia visited us. (Since I went to Africa for a trip the other day, some Chitose members wondered that the trip was for this project, but it is not related to the project at all. Actually, a friend of mine who works for the World Bank and organized the project gave us this opportunity.)
*The programs are ACE and PASET that the World Bank invests and supports. These are the projects that the World Bank and the African government establish research institutes of industries and sectors where Africa has priority in screened universities located in Africa, invest, support, and improve the quality of education and research. Both programs emphasize on overseas partnerships. And they support African research institutes and universities for advanced research to have the collaborative research and business development with overseas universities and companies and also support acceptance of researchers.
This program aims to increase the number of science researchers in Africa and to improve the quality of research. In Africa, especially in Sub-Saharan Africa, there are only 92 scientists in 1 million people, far below the world average of 1,083 scientists in 1 million people.
The purpose of their visit to Japan this time was to see the Japanese universities and companies and to discuss what kind of partnerships are actually possible in promoting these programs in the future.
Researchers who specializes in agriculture, immunology, and human health care visited Chitose. On the day of the visit, I also gave a presentation in English to get them to know Chitose's vision and projects and had time for questions and answers with the director and the researchers. They were interested in how Chitose that has the function of research and development develop our own businesses. I got a comment that they want to think about future collaborations. I think that we made this visit meaningful.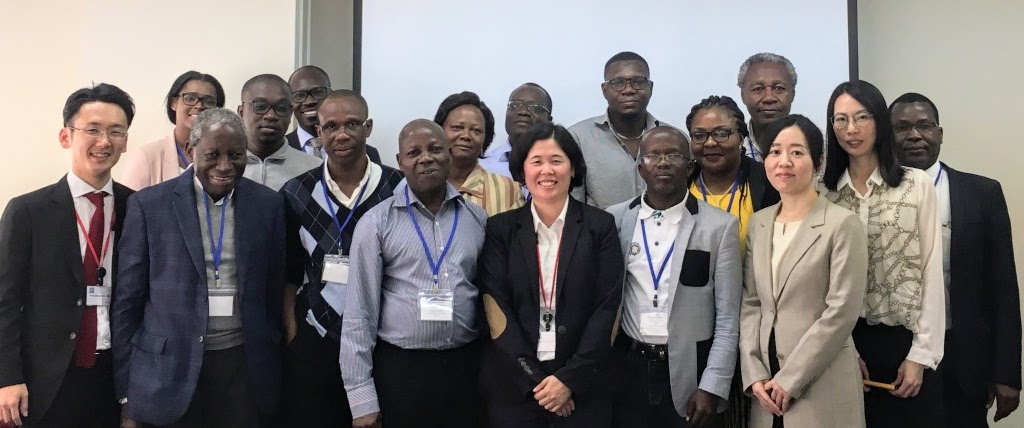 It is nice if I had made some opportunities for Chitose to advance to unexplored Africa in the future, since there are many Africa lovers in Chitose. Now, I would like to ask Ms Deguchi to take over.
● New members join us
In October, three members joined us!
◯Natsuko Hamai (General Manager, Business Management Department, Tavelmout Corporation):
Although I do not have a science background, I was fascinated by Tavelmout's challenge of making a sustainable social infrastructure through food, taking advantage of advanced in-house technology and I joined Chitose for this opportunity.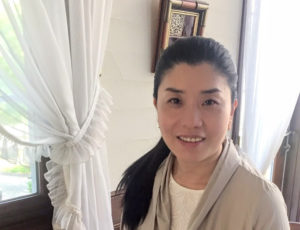 ○Nobuaki Shono (Researcher, Research & Development Division):
I decided to join Chitose Laboratory since I wanted to improve the world using the power of living organisms.
I think that the power of living organisms is "the ability to make a story from a phenomenon".
Even when the sunlight hit an asphalt, it will only give off heat. But when it hit a plant, it will produce fruit, and after being eaten by animals, various food chains are created. It may also bloom beautiful flowers and make us happy. I like these stories that living organisms create very much.
I want to make a happy story both for people and the earth by pursuing and engineering various biological processes. I believe that Chitose Laboratory is a company that is full of motivation for research and development that can also try large scale work.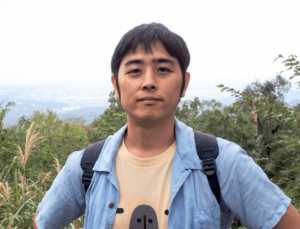 ○Kayo Nishida (Researcher, Chitose Biologics(Mammalian Cell) team, Research and Development Division):
When I found Chitose's recruitment ad and then I checked the website, the keyword "organism" jumped out at me. What I was only sticking to when I looked for my job was that the experiment object is a living organism. Living experiment objects somehow make me more excited. I thought Chitose Laboratory that pursues the possibilities of "living organisms" is a very exciting company for me, so I decided to join.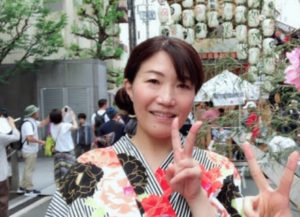 ● How to create a business plan that gets the "Best Award"!?
Group representative Fujita's column, "How to create a business plan that gets the" Best Award" has been released. It is the 2nd installment in the series, "The common idea of the Japanese venture industry that should be reconsidered from the inside".
▷Please check the first column here.
Does the venture industry use the "Death Valley" as an excuse?
Last time, we received a lot of responses (Thank you for your comments to the article!). The article of that time created a buzz especially in the NewsPicks because it might be easy to understand the contents since there were concrete examples.
NewsPicks is here.
Fujita flying around here and there seems to write columns during his traveling time on the plane.
Please check out the next column, too!
Editor's postscript
I wondered why new members who joined this year considered me "manager of Public Relations". Then I realized the reason was I introduced myself "This is Deguchi from public relations" at the beginning of Hottopics, so I ceased calling myself as "Deguchi from public relations" since the previous issue.
For me, "Public Relations" is only one of my roles. So, although it would be nice to be called "Ms Deguchi of Public Relations" by reporters or Public Relations from other companies, I feel incompatible to be called so in Chitose.
What I want to do and what role I play in the company are always changing, but I think that two major axises of my current works are "to convey the charm of Chitose" and "to create an environment that everyone can work comfortably in from the viewpoint of information and design" at the present moment.
In order to achieve this, I work as "public relations", "editorial chief", or "web director", if I dare to name it, but I think I cannot express myself only with one of them. However, people need classification to recognize other people, especially in the case of first meetings. So in my case, I occasionally choose my classification, what kind of tags I put on to show myself, according to the partner of the project.
About three years ago, I went to see the stage of Kentaro Kobayashi.
There is no suitable tag for both who he is and what genre of the stage he makes. However, there are many fans who accept him as he is and his works as they are, and I felt that it was very cool. Recalling back now, although it's very presumptuous of me, I feel that I  empathised with him.