Hello! This is Yu Deguchi from CHITOSE GROUP.
This is the second HOTTOPICS since I declared to issue HOTTOPICS on a monthly basis.
I feel that it wasn't so long ago since I last wrote. The thought that I will be writing once a month from now on is actually quite daunting.. But, I will try my best.. I'm feeling nothing but respect for people making monthly and weekly magazines.
=================================================
〈Table of contents〉
●We revamped our group logo!
●Group Representative Fujita talks about three issues of the bio-venture industry.
●New members join us.
=================================================
●We revamped our group logo!
We revamped Chitose Group's logo on May 21 (Mon). Did you notice it?
The previous logo was renewed in April 2015 when Neo-Morgan Laboratory Corporation changed its company name to Chitose Laboratories Corporation and Chitose Group was founded at around the same time.
※Please click here for press release of when we changed the company name.
The logo's symbolic connected cranes represent that we fly in the world as Chitose group. I liked the beautiful streamlined design very much, however, I have recently been a little concerned that it does not fit into Chitose'- aim to develop businesses that will last a thousand years. For that reason, we asked Ms Izumi Kogahara, an artist and designer who has been supporting us from time to time, to assist us with the logo revamping works.
Actually, as I  started the work of building a group identity (corporate branding), the first thing I did was to ask Ms Kogawara to create a "COMPANY'S VISUAL IMAGE" with oil painting.
◯From Ms Kogahara's website
"Project Introdution – Works:Chitose Group Corporate Image Creation"
As Ms Kogahara wrote in the above article, what we asked Ms Kogahara at that time was to "Draw a picture based on what you feel about us using your senses".
Although I knew it might have been an unreasonable request, I made it nonetheless because I trusted her senses from the bottom of my heart. However, I think she received a considerable amount of pressure… (in fact, she wrote in her article "My imagination was running wild, and I was about to go crazy.")
After visiting our company, going through a laboratory tour and interviewing 14 of Chitose's members, she expressed her feelings of our company image in oil painting.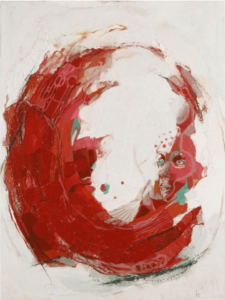 The "COMPANY'S VISUAL IMAGE" was created vibrantly and full of energy. She told us that she felt the colour "red" when she saw each member talked lively about their vision. "It was her sense not to dye us green although we are developing a lot of businesses that has the image of green colour. It's a good thing that we asked her to do this job." the Group Representative Mr Fujita commented in the Hottopics.
As mentioned above, Ms Kogahara is great in sensing the energy and feeling that lives on the inside of the person himself and from the spoken words, so we have extreme confidence in her works.
And this time, we asked her to design the new Chitose Group logo with the following requirements.
ーーーーーーーーーーーーーーーーーーーーーーーーーーーーーーーーーーーーー
●Significance put into the logo
・Passion for the company mission that we will be continuously challenging R&D and business development for a 1000 years and beyond.
●Requirements for a new logo
・Crane motif (Does not have to be a connected crane. A folded paper crane, origami crane, is better, if possible)
・Two colors, the red color of the Japanese flag and another color
・Simple and classic design that can be used for a long time without going out of trend.
・Easily recognisable as Chitose, even if you look at it from afar.
ーーーーーーーーーーーーーーーーーーーーーーーーーーーーーーーーーーーーー
Finally, the new logo was completed!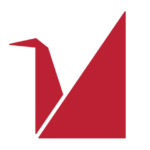 In the initial version, the folded part of crane's head could not be straightened when it unfolds. However it was later adjusted to become a more realistic design where the head can be straightened out.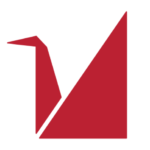 The crane looking ahead  steadily towards the future for a thousand years . The new logo was made very simple, powerful, reassuring and wonderful as requested. The font was adjusted over and over again, till finally, the Chitose Group's logo was completed!

It is also important to note that different fonts were used for "CHITOSE" and "GROUP".
For "CHITOSE", an original font based on Trajan, that has more than 2000 years of history, is used. On the other hand for "GROUP", we used Futura that means "Future". We also express our philosophy through these fonts, of our continuous pursue in developing cutting-edge technology in a classy fashion.
Just a quick digression, Trajan is a font based on an inscription engraved on the memorial pillar of Emperor Trajanus who governed an ancient Roman Empire. I've been handling various fonts since I started my current job. Trajan is one of my top three favorite fonts.
Futura is a font used for the inscription that was left on the moon by the Apollo 11 crews who did the first manned landing on the moon. With the meaning of future, it is actually one of the fonts with a history that has lasted more than 90 years since its birth.
With this new logo, every design such as business cards and websites revamped. Fujita declared that we will continue to use it as Chitose's logo for as long as Fujita is alive, so it will accompany you a long time. Please continue to support us and we hope you have come to better understand the meaning behind the  new Chitose logo.
● Representative Fujita talked about three issues of bio-venture industry
A while ago, on April 13 (Fri), the Shonan Research Center of Takeda Pharmaceutical Company restarted as "Shonan Health Innovation Park" and held the opening ceremony forum.
At the end of the opening ceremony, talks were given by various speakers covering three themes. Chitose Group's representative Fujita, one of the speakers in the event, talked about three issues of bio-venture industry for  the theme "Revitalizing venture business and role expected of Shonan Health Innovation Park".
※We thank Mr. Ikeura, CEO of Axcelead Drug Discovery Partners, Inc. for the invitation to be a speaker for the event. He served as the coordinator of the workshop.
◯ Rather than nurturing a company President, it is more crucial to nurture a "Venture Manager" who can support the company President.
◯Going public is just one of the means, not a goal.
◯Keeping the textbooks in mind, there can be successful businesses in areas beyond textbooks.
◯ Rather than nurturing a company President, it is more crucial to nurture a "Venture Manager" who can support the company President
In the Japanese bio-venture industry, measures to promote entrepreneurs are actively discussed. However, I think what we lack is not a "President" but a "Venture Manager" that supports the President.
There will always be a steady number of people who become entrepreneurs and Presidents.. However, someone has to find "Venture Managers" who support such Presidents and it is necessary to deliberately nurture them, and the Venture Managers need certain experience before they can grow up. Nevertheless, in the discussion of the Japanese bio-venture industry, I have never seen any discussions on how to nurture and grow "Venture Managers" to support the president.
In the case of Chitose, we've scouted potential candidates from students, giving them places and nurturing them to become "venture managers" in about ten years. Even now I feel that the speed of business depends on the quality and quantity of the managers.
◯ Going public is just one of the means, not a goal
On the feelings of people surrounding venture companies, going public usually tends to be their goal. Although it is just one of the means and options for realizing their vision, it seems that there are many arguments that surrounding the means and purpose for making a venture company successful. I feel that the Japanese society culture of having the idea of studying to graduate from the university and passing the university stage rather than studying because we want to, could be the root cause of the mistaken thinking of people.
◯ Keeping the textbooks in mind, there can be successful businesses in areas beyond textbooks
There are solid academic organisations, methodology and textbooks regarding corporate management. However, the fact is based on textbooks, we can make successful businesses in areas beyond textbooks.
What I saw and felt about many venture companies is that there are two kinds of ventures that fail. First are businesses done in their own style without learning from textbooks and second are those that fail by only doing according to textbooks. I think that it is the right attitude to decide not to do according to textbooks after studying and understanding them. I feel that there are a large number of voices of advisors who promote their ability to to earn profits by promoting textbook ideas, which maybe the biggest problem of the Japanese bio-venture industry.
Shonan Health Innovation Park is a facility aiming to become a base for advanced medical care by gathering venture companies and research institutes of universities in the healthcare field. For that reason, the other speakers were only people involved in drug discovery and medical care. Despite Fujita introducing his experiences other than "drug discovery venture", a lot of people in and around drug discovery ventures responded like "I see, I was so convinced."
● New members join us!
As in the last issue, let me introduce new members who joined in July.
Sarah Ahmad (Corporate Administration Division@Brunei)
Ever since I can remember, I have always been fascinated with Nutrition and always keen to know about the Manufacturing and Processing Industry. Coming from a home where I have 2 daughters under Special Education Needs, I'm always finding new and creative ways to incorporate nutrition into their daily meals to ensure that they get the proper nutrition that they require. Learning about Chitose's Mission as a Company and how Tavelmout brand is to develop fresh living spirulina, I believe that fresh is always best and that every mother can be rest assured that there is always an alternative to fresh and healthy nutrition.
---
Editor's Postscript
Since last May, I had been too busy with preparations for the announcement of Tavelmout's capital increase and for Chitose's logo renewal. My vision became very blurry…. I regret that I was putting a burden on my eyes, so I am trying to wear glasses instead of contact lenses as much as possible. Since I am wearing glasses with a degree that is weaker than what is needed, I am unable to see every single thing in detail in around me, unless I choose to focus my eyes on that object.
I suddenly thought that any kind of information is so. Most of the information will be passed through unless we have preparations to receive (the will to see) them. However, if we have the will, information will come about surprisingly. Since I started working in Chitose, the type and quantity of information that comes in has changed completely. The way of seeing the world has changed and I feel that the range of my interest is expanding.
However, when you are tired of getting caught up in a swirling vortex of information, removing glasses that are difficult to see with can also be a good rest.
It is still baking hot. Please take good care of yourself.