Hello. I'm Deguchi from Chitose.
Spring has come! I wonder why does spring make us feel so excited?
I wish I could just enjoy spring, but spring is hard for someone like me who has hay fever. By the way, my grandmother finally developed hay fever at 89 years of age. I wonder if this is prove that her immune system is functioning well and that she is healthy.
● Revamp of CHITOSE GROUP website & release of the English version of Chitose Journal
I'd taken part in creating many websites at Chitose (I've made almost 10 including providing direction and my own work). And I did a large scale revamp on the first website I made.
I released the Japanese version of the website in a rush at the end of October last year in view of the presentation of "0 to 1 project". While revising the Japanese version, I moved forward to release the English version. So, I did not feel much of the 'TA-DA! We finally made it!' accomplishment since the website wasn't released after it was completed.
Besides that, the website was made with the cooperation of many people, and I feel proud that it has been completed with the feelings of many of our members. So, please check it out!
For the translations, it involved 3 persons' cooperation. Arthur the Japanese and English bilingual, who joined Chitose last summer and is active in multiple fields. Nickaila who is also active in multiple fields, comes from Singapore and seem to have a sense of Japanese more then the native Japanese. And Ms. A, who used to work together with us at Chitose and is now looking forward to become a clinical trial translator.
Our representative Dr. Fujita's Japanese is said to be difficult to translate into English, however, thanks to the highly intuitive members, his Japanese expressions are now translated into English.
Let me now talk about the previous website.

I have so many memories regarding the former site. Parallax effect which is common today, gives movement to the site. The site's high designability was evaluated and it was even nominated as one of the great designs for a site clip collection.
I first applied for a research position and adopted  a business development position in 2013. However, I started to engage in corporate branding since the autumn of 2014. The first thing I did was working to make Chitose's "COMPANY'S VISUAL IMAGE". After that, I started to make Chitose's website using the pictures from the "COMPANY'S VISUAL IMAGE".
※If you are interested to find out more about this, please read the previous HOTTOPICS.
https://journal.chitose-bio.com/en/hottopics52/

When I first started making the website, I didn't know how to make one, or how does it even work, and what should I start with. I didn't know anything about it! Nobody in the firm told me how to do it either. I remember that I was very anxious. (Now I feel horrible to have caused the web designer so much trouble…)
Being particular about the details and after making adjustments over and over again, the site was completed. It was the first work that I did, since I joined Chitose, that made me feel a sense of accomplishment.
What I think now is, it's not "over when it's released" but it's the "start after it's released". I didn't realize at that time and I didn't think that I had to maintain the system of the website continuously.
The new site allows for the ease of increasing project information and entity information. Also, I intended to make the site as "Chitose's platform" where various information are gathered by linking them with CHITOSE JOURNAL.
… It became so long because of my overwhelming feelings for it, but let me say one more thing.
Since activities are increasing overseas, especially in Southeast Asia, the English version of CHITOSE JOURNAL is now available. There are still many tasks to be done regarding the English contents. However, in order to increase the knowledge for people overseas, optimizing while operating the site will do good, I think.
▶Click here to go to the main page of the CHITOSE JOURNAL (EN)
By the way, I was thinking about the reason why I don't feel much sense of accomplishment. This is probably because now I understand that most things in this world always require optimal solution by flexibly accepting changes and continuous efforts.

● The Japan Society for Bioscience, Biotechnology, and Agrochemistry, held an event
The Japan Society for Bioscience, Biotechnology, and Agrochemistry, the society which must be familiar to the readers of HOTTOPICS, has held a 2019 fiscal year event at the end of March in Tokyo. Kasahara and Tohda who participated in the event will give us a report.
◯Ken Kasahara (General Manager of Microbiota Utilization Division, Chitose Laboratory Corp. and Managing Director and Chief Technology Officer, Flora Index Corp) :
I gave a presentation titled "The Economic Effect of Microbiome Research" at Symposium4S19's "Technological Task and Efforts For Creation of New Industries from Microbiome Research". This time, I participated not as a member of Chitose,but as the Executive Vice-Chairman and President of Research and Development Department of Japan Microbiome Consortium (JMBC), which Chitose Laboratory is also a part of.
In order to create new industries from microbiome research, the amount of quality we can get from what kind of data, decides the issue. Other speakers introduced the status of development of recommended protocol or measurement standards, which improves the quality of data. I introduced mainly about the efforts of JMBC, how to decide the acquisition method and activation method of microbiome data and how to disseminate to the world in order to socially implement the achievements of microbiome research and make the best out of microbiome data.
While microbiome is attracting attention, I expressed my thoughts that JMBC must accelerate activities so that the current condition of microbiome doesn't end in a boom, but to innovate new industries from microbiome research.
◯Hideki Tohda (Bioengineering member, Chitose Laboratory Corp.):
I presented the theme "Practical Microbial Breeding Methods Based on Disparity Mutagenesis" at Symposium3S13's "Biosynthesis Machinery to Redesign". Also, as one of the members of the new resources bioconversion study group of Japan Bioindustry Association(JBA), I was in charge of sponsor, chairman and the opening remarks in two sections.
As you know what disparity mutagenesis is (I think you do!), Chitose's core technology that brings out the potential of living things by breeding and improving effectively. I had a little longer time to present so I was able to speak from the perspective of theories.
At the symposium, 6 teachers gave a talk not just about Chitose's business itself but about their academics such as Noh-gei-kagaku or bioeconomy by defining the outline of science or the academic world. The 6 teachers were chosen by 3 sponsors after the discussion. And thanks to the teachers that took on the job pleasantly.(They all responded quickly!) The chairman was responsible as the time keeper and the mike runner also, so it had the amateur vibes. But, the symposium successfully ended with more than 100 participants. A lively discussion such as how could Noh-gei-kagaku, which is connected to life, food, environment contribute to bioeconomy, since it is expressed as a fair trade for the earth. Or, could we put out Japan's strengths by using big data which is the hot topic now.  
By the way, the event was held at Tokyo University of Agriculture and Technology in a place called "Sakuragaoka". As the name shows, there are many Japanese cherry blossom trees near the university and the trees were beautifully half bloomed.
It is kind of a digression but, have you ever thought about the meaning of the word "gei" in Noh-gei-kagaku?
"Gei" means technology or arts. The meaning of the character "gei(芸)" of Noh-gei-kagaku can be considered as accepting uncontrollable random factors and the technology that dwells with humans. These are totally not my words, but I remember well that I was strangely convinced when I first heard this.
It seems that there is no word for "Noh-gei-kagaku" in the West.
This tells us that there is a different approach and values between Japan and that of the West in the bio field.
Noh-gei-kagaku is a field that is like a "living thing". Most people who choose this field are people like "living things". That's the reason why I feel that I still want to stay in this bio world.
If you want to know more about the origin of the name "Noh-gei-kagaku", check out the link below.
▶What's the origin of "Noh-gei-kagaku"? (Japanese only)
● Challenges and strategies of a venture company in international expansion
Dr. Fujita, the representative of CHITOSE GROUP gave a lecture at the "International Development Seminar~The challenges and improvements in international development of venture companies" which was held by Kobe city and the Foundation for Biomedical Research and Innovation at Kobe.
◯Dr. Tomohiro Fujita (Representative of CHITOSE GROUP):
There is a profession which supports venture companies.
In direct ratio to the increase of Japanese venture promotion momentum, I think the ratio of stable professionals in this field is also increasing compared to ten years ago. Everyone I talked with at the seminar were working with passion and I had the same impression towards them.
As the number of professional venture company supporter increases, I get more chances to talk about venture companies.  
This time, the main theme was about how could venture companies develop globally. But, what I said was "global development is an avenue, not a purpose". I repeatedly said "Something bad is going to happen if an avenue is set as a purpose".
I have been working in a venture company for about 15 years, and experienced all kinds of mistakes. My story with reality might help someone who is facing similar problems now.
On the other hand, I never felt successful in venture management during this 15 years. It is not because I'm being humble, I just never felt that it went well. So, I get very confused when people ask me "What's the secret to success?" because I have never been successful.
In general, even if I collect all the success stories and organized the greatest common divisor regarding the development of a venture company, I think the answer will just be something common like "passion of the managers" or "superiority of the technology". Managers in venture companies that failed in the past must have had passion, or the company which failed may have had superiority in the technology too.
But, even I don't know how to be successful in venture companies, I must have a sense to increase the probability of survival when I was a young man. Or, maybe it's just an imagination and the answer is still in the dark.  
Anyway, it's a vague story even to me. So, I thought it was hard to tell people about reality or actual situation to manage venture company. However I speak about my experiences to the professional venture company supporters.
So, at this event, I talked about everything openly thinking it will be nice if my experience may help someone who is facing difficulties in managing venture companies. Of course, I did so without trying to make the sponsors who were the event organizers laugh.
Please ask us if Dr. Fujita will be of some help somewhere.
● Tavelmout was featured on NHK
Efforts by Tavelmout Corp. was introduced on NIPPON HOSO KYOKAI's "<5o'clock special>Is it going to change our future? The amazing microbe." of NHK-sogo "News shibu-goji" broadcasted on Thursday, March 7th, 2019.
In the program, comments from Sasaki, the representative of Tavelmout, and spirulina cultivation in Kakegawa city were shown during the 5 minutes.
Sasaki, who was interviewed will give us a report.
◯Toshiya Sasaki (President and Managing Director, Tavelmout Corp.):
There was an interview about spirulina of Tavelmout Corporation under the theme impact of microbes today.
The detail is about, our efforts being a solution to food-supply crisis, since spirulina has more than 10 times the protein productivity than that of soybean.
Spirulina has 70% high content protein. This is because, due to photosynthesis, a blue dyed protein is saved by phycocyanin besides chlorophyll. Words such as "blue dyed" or "phycocyanin" were all omitted and introduced as "protein" so that it will be easier for the viewers to understand. Without too much information, it was simple and easy to understand I think. It made me reflect on myself for always trying hard to explain too much information.
We tried hard to negotiate, but NHK wouldn't show any product name or the name of the company, so nothing about Tavelmout or spirulina were broadcasted. I thought I should have worn a Tavelumout T-shirt. And said, I have no change of clothes.
Even though NHK has a big impact on people, I was still surprised when many customers called NHK to ask for our phone number.
I always realize the good from when we are featured, not only by the reaction of the customers but also when I feel that our company is doing something amazing. I was impressed to see the other people being happier than me.
The plant construction and cultivation are steadily on-going in Brunei and it is planned to arrive in Japan this autumn. We will pull up the edible algae market, as well as be interviewed about our product itself.
● Our new members!
Another two members have joined us last month!
◯Ryota Honjo(Agriculture Expert @ Malaysia):
I used to give guidance about many kinds of crops as an agriculture trainer at an agricultural cooperative in Hiroshima for 10 years.
After that, I worked in a Malaysian company for 4 years managing a plantation.
I decided to join Chitose so I could make the best out of my knowledge I gained in Japan, and the experience of managing a plantation and connections of sales in Malaysia.
From now on, I hope that everyone involved under the name of Chitose widens the circle of smiles by providing great agricultural products.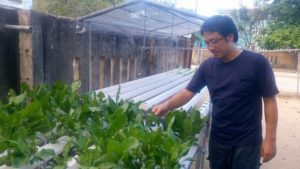 Editorial Note
During the weekend, a cherry blossom fell onto my knee when I was doing hanami (flower viewing).
Looking closely at the cute tiny cherry blossom, it had three buds.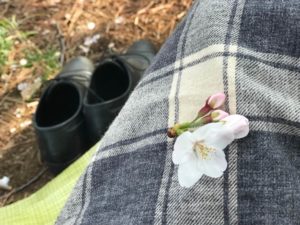 I was about to cry thinking that it fell without blooming.
When something sad or painful happen, people demand a reason for it. But most of the time there are no reasons. There is not any reason why the buds fell.
Your life might end suddenly without you expecting it.
The fallen cherry blossom made me think of something I know, but it's something that I tried not to think about that Sunday afternoon.
The next HOTTOPICS is scheduled to be released in May.
If you have any comments, feedback or queries, you can forward them to「news-en@chitose-bio.com」.